The effortless content management system
The Dreamoc CMS is an easy way of managing your content in both the HD3 and the POP3 displays. No matter how many displays or locations you have, the CMS enables you to easily update your mixed reality content across all displays with the push of a button from your own computer. The CMS does not require any technical skills, you simply download the software and with three easy steps, you are ready. Upload a video, apply light and volume levels, set the time zone and timer – and you're done.
Dreamoc CMS supports the Dreamoc HD3 and Dreamoc POP3.
Simple and manageable
You can manage your displays one by one, create groups of displays, or simply change the content of every single display all at once. For instance, if you have ten displays located in ten different stores and you want to use a specific campaign for just two of them, then the Dreamoc CMS lets you do just that. As long as any given display of yours is online, you can manage its content with the Dreamoc CMS. Changing one display is as easy as changing 10 or 50 displays - it's really that simple.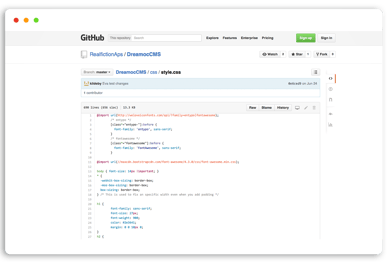 Open source
We created the Dreamoc CMS to provide a simple way of managing the content in your displays. We realize that we might not know all about your enterprise and specific challenges, so we also created an Open Source version of our CMS for you to tweak and customize to match your company's exact preferences and style.
You will also have the opportunity of hosting everything yourself, whereas our CMS Light version will be hosting your content on our servers.
Features

Upload content from any location
No matter where you and your Dreamocs are located, simply upload content to your displays via the Internet in a few clicks.

Timer settings for your location
Your content is automatically pushed to all your displays at a specific time that your choose.
Manage sound and light settings
Set the speaker volume and amount of light in all your displays.

Open source – endless possibilities
We give everyone the change to co-develop and add new features to the Dreamoc CMS, in order to make it even better and more advanced.