Rent a unique holographic display
Rent a premium display solutions for your next trade fair, event or brand activation.
Our full-solution rental concept takes care of everything for you, eliminating
any concern about upfront investments, logistics, and technical setup.
Our displays generate that little extra thing spark of magic,
carefully designed to make people connect with your company and brand on a deeper level.




"…when we saw this solution, it was definitely the right way for us to showcase
our technical products in a nice looking way"

-Kenneth Iversen, Business Development Manager



"... we found that the holographic display met our criteria and look forward to further exploring how this technology can help us better"

Henry Steffensen, Regional Marketing Manager "This years stand achieved a 25% increase in booth attendees, with significantly higher lead quality..." "This has enabled lots of audiences to walk past here to interact with different types of content in an augmented way, which is totally unique."



"The hologram makes it possible for us to show inner parts and features of our machines without having them standing physically"

-Merete Nygaard, Global Marketing Coordinator Our process

DESIGN
Through close dialogue and a creative approach, we establish the overall framework, identify the essentials in the story, and decide which type of display is the right for the job. We then utilize any of your existing assets and create the initial storyboard. Finally, we test, refine and edit until you are satisfied.



PRODUCTION
When the storyboard is approved, we use advanced post-production and compositing to create the high-quality magic that will make your experience come to life. We then finish by sending everything to you for final approval.

INSTALLATION
At the location, our well-trained production team assembles the display and applies the foil branding elements. They also perform on-site calibration of the content if needed. All in all, we ensure that everything runs smoothly. When the lights dim and the show is over, we simply dismantle everything again and ship it back to our warehouse.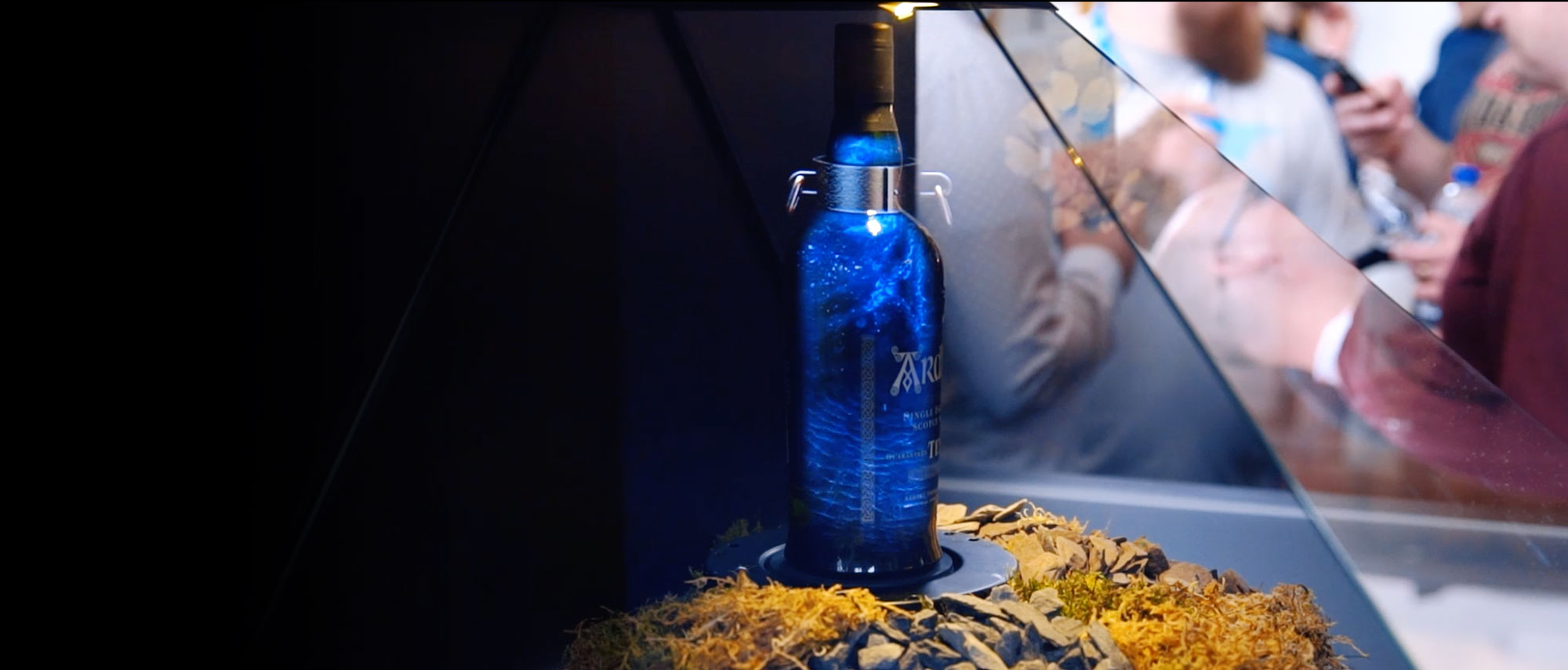 WHY IT

WORKS
By utilizing the power of 3D holographic content, our display solutions have a unique and proven ability to capture people's attention. Used in busy high-traffic locations such as trade fairs, malls or events, you can successfully stop people in their tracks and keep them engaged in your brand or product message.
A key strength lies in the ability to take abstract or complex product offerings and instantly make them easy for everybody to understand and decode in seconds, as they are presented in a simple, playful and visual way.
Unlike VR glasses or other wearable tech currently on the market, our display solutions allow multiple people to take part in the experience at the same time, thereby strengthening the collective connection with your company.
Immersive interactivity
To give your audience the power to immerse themselves completely and connect with your brand on an even deeper level, we design custom interactivity that can easily be added to your in-store campaign or event setup.
The touchscreen makes it possible to interact with virtual holographic content, successfully increasing the level of engagement and time spend with your brand even more.
Get more essential content
Since we operate with lead forwarding to you as our partner, the GDPR requires us to gather confirmation from you, to make sure you handle Personal Data received from us according to the new rules and framework stated in the law. This would normally be name, phone number and email for a lead that we wish to hand over to you.
You can unsubscribe at any time.
Read more in our Privacy Policy.