The impressive dreamoc POP3
This display is designed in every way to create a lot of attention around a certain campaign or product launch, either as stand-alone or part of a series. The POP3 has one large tilted pane of glass securing room for your product inside the display and granting a large surface for showing your holographic content. Combining a physical item inside the display with the vivid three-dimensional content catches anyone's eye and makes the viewers curious.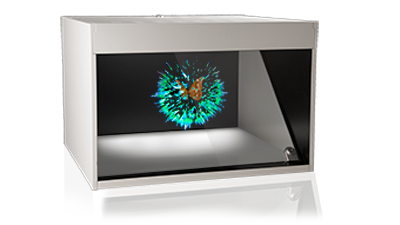 MULTIPLY THE MAGIC OF MIXED REALITY
Sync multiple displays with the built-in Fusion feature, and create visual experiences like nothing else. Completely enchant your audience by making the 3D holographic content flow seamlessly across all your displays, adding a whole new dimension to your branded space.
You can place your displays side by side in a shop window to increase foot traffic, or built-in as an integral part of your retail concept in store, to highlight special products or campaigns. You can even place them staggered or on top of each other at your event space or trade show booth, to generate attention and awareness.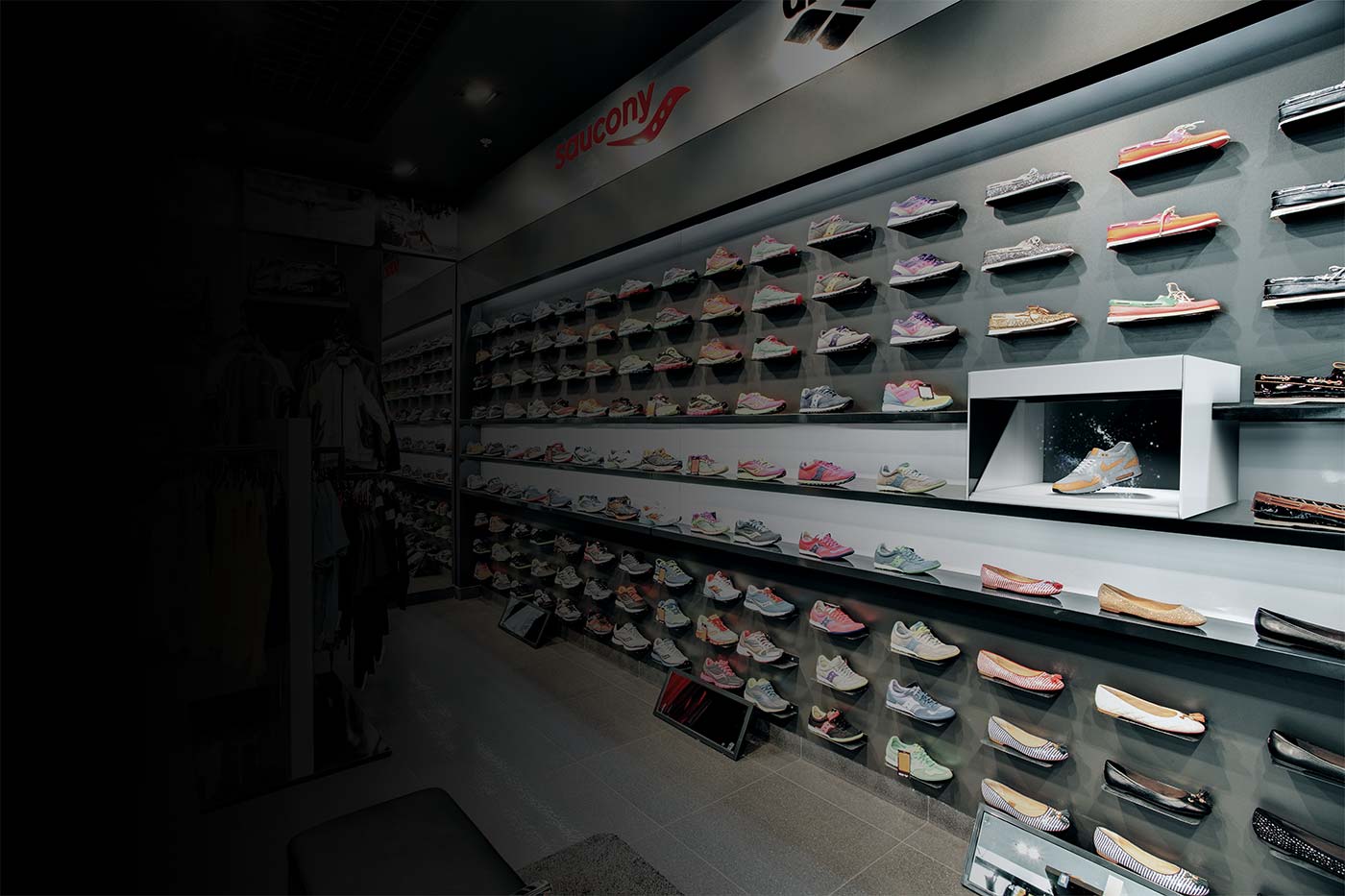 Gain control and demand attention
The POP3 boasts an array of features like built-in audio, key-protected front and HDMI input for interactivity.
The simple one-sided design makes it ideal as a shelf intallation for highlighting speciel products and campaign items.
Features

Interactive possibilities
Interactivity between the viewer and the Dreamoc adds an extra level to your experience. Simply connect via the HDMI port.

Light Control
A powerful effect for controlling the light inside the Dreamoc, to build momentum or create sudden flashes for extra attention.

CrystallineTM Optics
High-end glass optics that provides vivid brightness and clarity for your holographic content.

Built-in audio
No need for external speakers. Simply adjust the sound level with the volume buttons.

Key protected front
Easy and secure access from the front of the display to the product you are displaying, enabling you to re-position or swap it for the next showcase.

Dreamoc Fusion
Fusion is a unique feature that makes it possible to sync multiple Dreamoc HD3 or POP3 displays, and create visual experiences where the animations 'flow' seamlessly across all the displays
Learn more

Customizable colors
When ordering 50 displays or more, we offer a variety of customization options. Contact us for more information
Optional accessories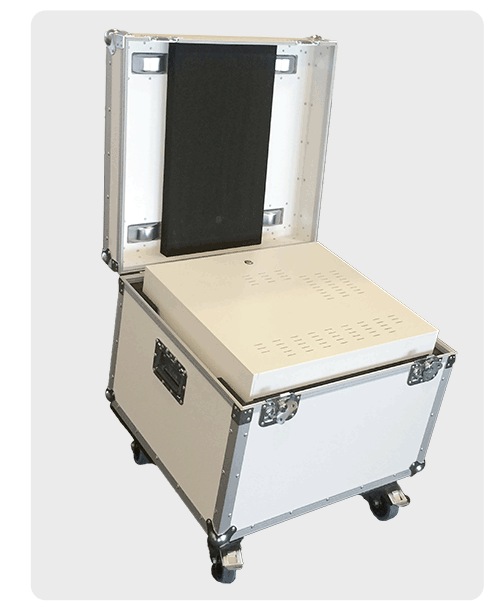 Dreamoc POP3 Flightcase
The Dreamoc POP3 flightcase is the optimal way of transporting your display. This optional accessory offers the safety and protection needed during repeated transport and storage in different locations.
Technical specifications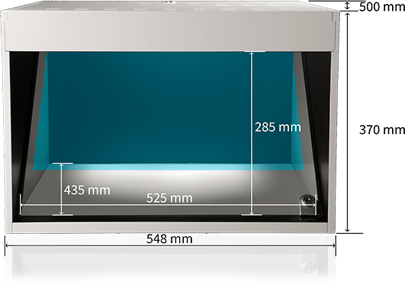 The Blue color on the drawing shows the approximate hologram size on Dreamoc POP3
Dreamoc POP3
Display measurements: W548 x H370 x D500 mm (∼550x370x500 mm)
Measurements inside the display: W524 x H285 x D431,8 mm (∼ 520x300x440 mm)
Speakers: 2 x 10W
Screen size: 23", 16:9
Resolution: Full HD 1920 X 1080p
Content: WMV, MP4, AVI, MPEG1/2/4, H.264, VC-
Input: 1 x HDMI , 1 x SD slot
SD card: Minimum class 4 – maximum 32Gbyte