The remarkable HD3
This display is a great platform for grabbing a lot of attention in any busy commercial setting. With its measurements of less than two feet wide and one foot in height, the Dreamoc HD3 lets you tap into the curiosity of anyone passing by, making them stop and stare at your display by applying the experience of mixed reality.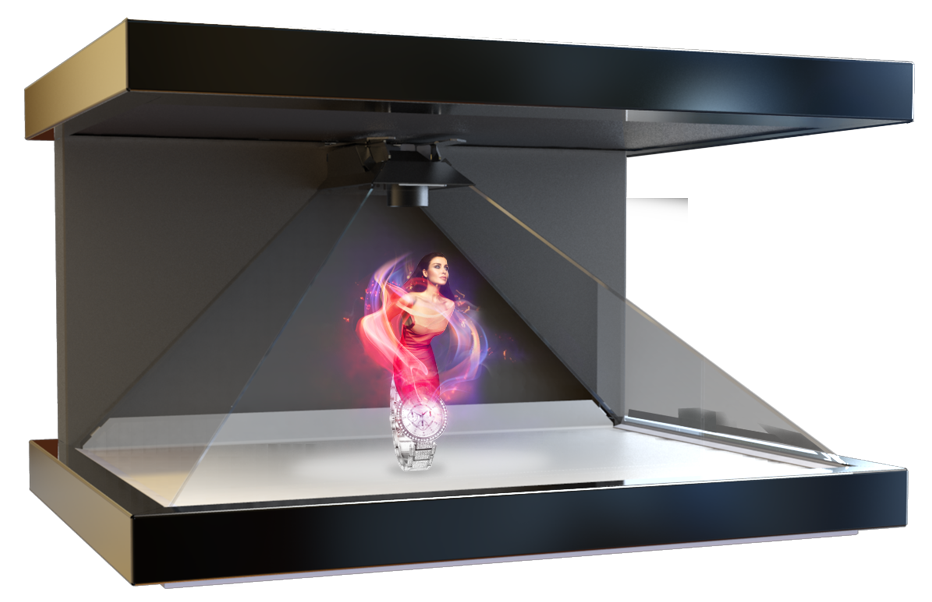 Adaptable and simple
The HD3 comes with a variety of features, such as built-in audio, high-end glass optics and our free Content Management System, which makes it easy to change and update your content depending on the displayed product, season or whatever influences your business. Simply plug in the display, and you're ready to start creating magic.
Combining a physical object with the hologram creates a mind-boggling effect that enhances their perception and relation to the product. Whatever type of solution you are looking for, we can assist and facilitate the process from first idea through creative sparring and finished content, making your brand and product come alive in the most magnificent ways.
Features

Interactive possibilities
Interactivity between the viewer and the Dreamoc adds an extra level to your experience. Simply connect via the HDMI port.

Light Control
A powerful effect for controlling the light inside the Dreamoc, to build momentum or create sudden flashes for extra attention.

CrystallineTM Optics
High-end glass optics that provides vivid brightness and clarity for your holographic content.

Built-in audio
No need for external speakers. Simply adjust the sound level with the volume buttons.

Dreamoc CMS
Simple content management system for configuring your content, from any location with an internet connection.

Key-protected front access door
Easy yet secure access the product you are displaying, enabling you to re- position it, or even swap it out for the next product you're showcasing.

Dreamoc Fusion
Fusion is a unique feature that makes it possible to sync multiple Dreamoc HD3 or POP3 displays, and create visual experiences where the animations 'flow' seamlessly across all the displays
Learn more
Technical specifications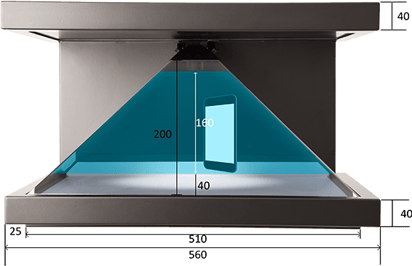 The Blue color on the drawing shows the approximate hologram size on Dreamoc HD3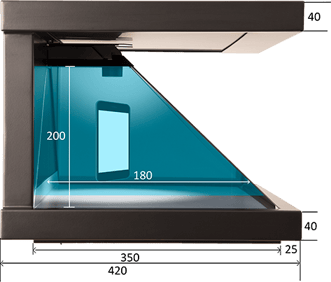 Dreamoc HD3
Display measurements: W560 x H342 x D420 mm
Power Consumption: 50W (Max) < 1W (Deep st.by.) < 5W (St.by.
Speakers: 2 x 10W
Screen size: 23", 16:9
Resolution: Full HD 1920 X 1080p
Content: WMV, MP4, AVI, MPEG1/2/4, H.264, VC-
Input: 1 x HDMI , 1 x SD slot
SD card: Minimum class 4 – maximum 32Gbyte